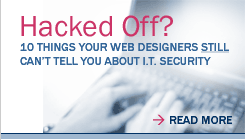 British Computer Society Professional Members.
Over 15 years experience running real IT projects inside real businesses, just like yours.
8 years as a strategic partner to the recruitment and financial services sectors; tackling data protection, IT security, business continuity; web, CRM database and accounts integration.
Uniquely Independent Advice - referral fees and commissions are paid back to our customers, the only guarantee of truly unbiased advice.

Welcome to Bawden Quinn Associates - Independent IT Advisors, Consultants and Trainers. We provide essential skills for businesses looking to make sense of IT.




Choosing and Using a Server
Manufacturer's rarely quote an "on the road" price for servers. Some essential tips for this essential equipment.
When IT projects go bad
Five important tips for budding project managers about to embark on their first major IT project.